Jazz Guitar: Joe studied jazz guitar at George Mason University under Rick Whitehead (former Airmen of Note guitarist) and Shawn Purcell (current Navy Commodores guitarist).  He currently performs solo-style jazz guitar for weddings, restaurants, fundraisers, art galleries, country clubs, or any event that could benefit from the added ambiance.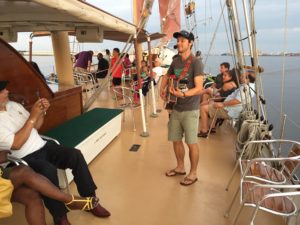 Acoustic Songs: He also plays the acoustic guitar and sings for bars, parties, party cruises, or any event or venue that you can think of.
Studio Work: Looking to add icing to your studio recordings? Joe is available for studio work – he has extensive experience recording both rhythm and lead guitar for his own projects as well as work-for-hire projects.
Audio Engineering: Joe works with District Entertainment Studios as an audio engineer, and is available to record you or your band.
Live Sound: Joe runs live sound for events, from live bands to poetry slams to weddings.  He provides and runs his own equipment.
Bands: If you are looking for a permanent or temporary lead guitarist for your band, please contact Joe to discuss. He has played lead guitar in over 100 shows with Albino Rhino, Bells and Hunters, and the Kairos Quintet.